Description
The special traits of the SWS 1/48 F-4E (Early Production) "Betty Lou":
There is nothing like the joy of comprehensively exploring the F-4 series with SWS kits. For the long-nose versions, SWS has selected to recreate seven types: E (early and late production), EJ/EJ-Kai, F/F ICE, and G. All subjects are extensively researched on every aspect, including examination of actual aircraft, to even further improve upon the accurate, beautiful form and ease of assembly from the short-nose SWS kits.
The "Betty Lou" F-4E of the 469th TFS, 388th TFW (Serial No. 67-0308)
This F-4E nicknamed "Betty Lou" of the 469th Tactical Fighter Squadron from the 388th Tactical Fighter Wing was deployed to Korat Royal Thai Air Force Base in November 1968. Its "shark mouth" had originally been painted when it was used for crew training by the 40th TFS/33rd TFW stationed at Eglin Air Force Base and the design passed along with the aircraft.
The Differences between the Long-Nose and Short-Nose F-4
Engines:


The nozzles are split into two pieces for more depth and realism. They can be built open or closed.
Landing Gear:


The 76.2 cm x 29.2 cm front wheels have wide, low-pressure 200 PSI tires with anti-skid brakes.
Armament: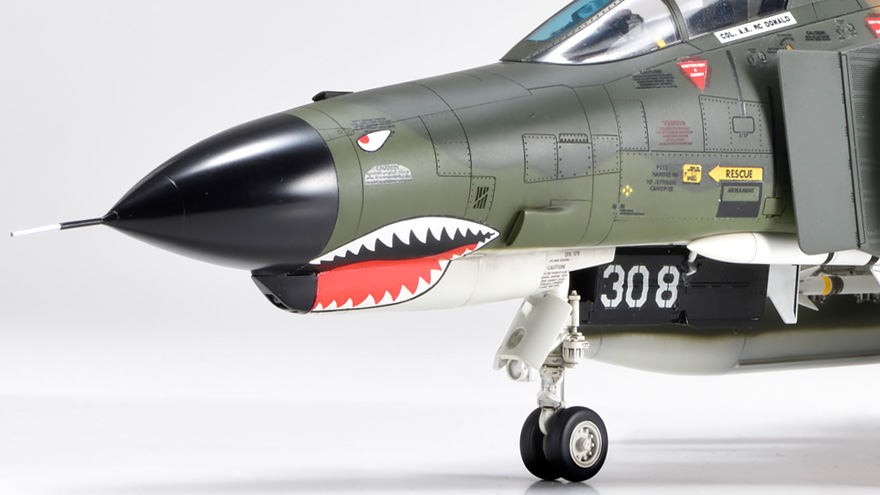 M61A1 Vulcan Cannon inside Nose
The F-4E, the first F-4 in the series to be equipped with a cannon, has a 20mm, six-barreled M61A1 Vulcan cannon mounted under the nose as a fixed armament, with the compact and highly shock-resistant AN/APQ-120 radar as its fire control system (FCS). Be sure to note the shape of the fairing, which may appear simple at first glance but is in fact a complexly-engineered three-dimensional surface.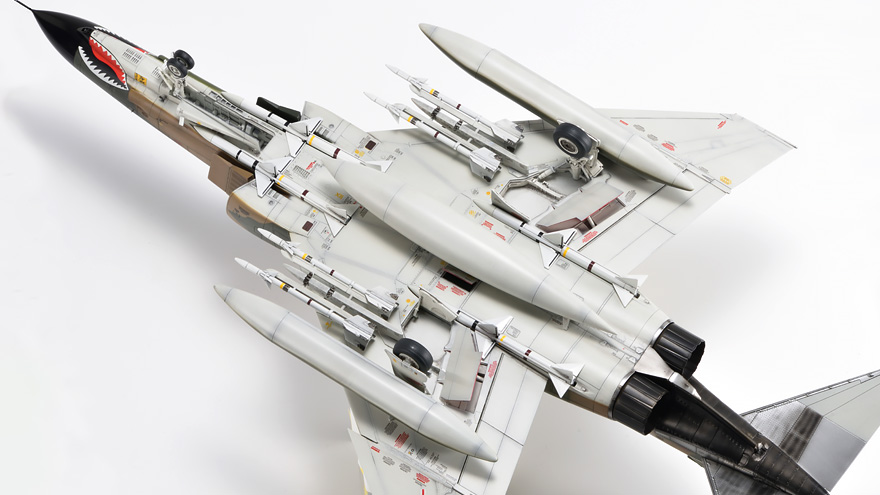 Armament on the Fuselage and Under the Wings:
The long-nose type could mount various weapons to the fuselage and underneath the wings, just like the short-nose versions. In addition, long-nose F-4S could mount TER (Triple Ejector Rack) to the internal pylons under the inboard wings, and MER (Multiple Ejector Rack) to the external pylons. In our thorough research for this kit, we newly discovered that when the MER is in use. Inclined pylons tilted outwards are used in order to prevent the weapons from interfering with the landing gear and other areas.