Description
Das Werk is a German model kit company. They have highly detailed superbly engineered and unusual subjects. The quality of the kits and their presentation is outstanding. The instruction manuals are works of art!
Item Number:
Product Details
Highly detailed static plastic model
Realistic representation of 1943 production Sd.Kfz.7
Ultra thin plastic parts for more realism
Complete interior
Complete detailed engine
Including PE & clear parts
With workable single track links (pre-cut "Magic Tracks")
Four paint schemes & decal options
6 lifelike soldier figures included
In cooperation with a well-known manufacturer, we present the best model of this vehicle in a new edition.
History
Our kit comes with six different Wehrmacht figures. The included figures are all shown seated.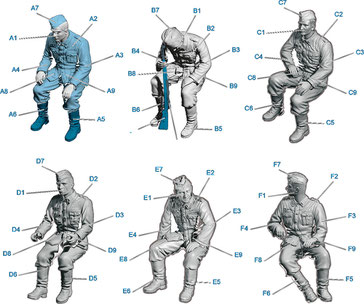 Between 1398 and 1944 more than 12,000 units of the Sonderkraftfahrzeug 7 were built. The German Wehrmacht use this vehicle as a tractor for their artillery & pioneer units. Captured vehicles were also used by the Allies.

Decal and marking options :
1. SS Panzerdivision, 1. SS Pionierbataillon,
Ardennes, January 1945
23. Panzerdivision, Artillerieregiment 128,
Eastern Front, 1943
5. Fallschirmjägerregiment 18,
North Netherlands, April 1945
1. Panzerdivision, Artillerieregiement 73,
Balkans, July 1943